Next2New Auto Sales & Service offers a variety of detailing services to fit any need or budget. We will wash, wax, buff, and shine your vehicle inside and out to restore it to showroom condition!
If you would like our detailing professionals to detail your vehicle, please fill out this form to make an appointment.
30 Years of experience at one of the fairest prices in town! One day service,and Interior is completely dry at time of pick up.
What Should A Full Car Detailing Service Include?
Car detailing service professionals using special tools will clean your vehicle of dirt and road grime, both inside and out and in detail. In addition to having a very clean car, the process of car detailing will also help to keep the vehicle in excellent condition and therefore retain more resale value. The challenge when shopping for a detailing service is finding one that will cover all of the required aspects of detailing.
Headlights, Taillights
A quality detailing service should include applying a polishing compound to headlights and taillights that show signs of oxidation, resulting in a like-new appearance.
Interior Detailing
Interior detailing should at minimum include a cleaning of all carpeting and seating surfaces. This is done either by shampooing or by using a steam cleaner. In addition, all plastics and vinyl should be properly cleaned and dressed, and any leather should be conditioned and cleaned. This is not limited to the passenger area, and many thorough services will also include the trunk area in the detailing package.
Engine Bay
While many detailing services may not include this in their standard packages, it is a very important aspect of automotive detailing. The engine bay should be lightly misted with water, and then cleaned with a suitable degreaser before being rinsed clean. Once properly dried, all silicone, plastic and rubber components should be properly dressed to protect them from cracking.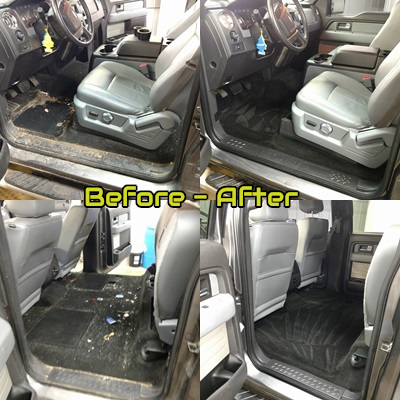 Schedule Service